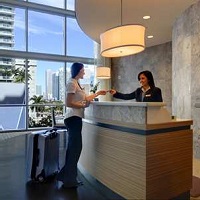 Most of people love traveling. Whether it's 'vacation', 'office tour', 'seminar visit', 'holiday', 'get together', or 'outing' – everyone loves to travel new places! Irrespective of your motive to visit, you need to plan your stay well for keeping your mind relaxed and to remain chilled. To ensure a safe and hassle-free travel, you need to look after a number of factors and among them the most important thing is definitely – booking a perfect hotel room to stay. This is the prior reason why hotel booking has expanded to the fastest growing business today.
How a hotel booking agent in Jamnagar can help you in getting the right hotel for you? Well, the retail outlets of the online hotel booking agencies are present in a number of cities in the country. You can contact them to plan your holiday stay according to your budget. This will help you to get rid of those online hotel searches, comparing the budgets, and checking availability for your desired dates. Rather you can spend those valuable time relaxing and packing or doing something productive. Actually the hotel booking agencies are backed by travel agents who are efficient in providing every detail regarding flights, hotels, and all that may fit into your budget and needs.
And, if you want a luxury and comfortable stay for your family, hotel booking agents can arrange any sort of stay for you including cottage booking and luxury multi-starrer hotel booking.
Let's see what the advantages you may enjoy by hiring an agent to plan your travel and stay.
1. Experience
They know and understand the market. After listening properly to your needs, they will match you with a better thing that you can find on your own or on the internet.
2. Advocate
If there happens anything wrong with your booking or stay in the hotel room, your hotel booking agent would fight for you. Does not matter whose fault it is! Your comfort is his concern. He will make sure that you do not face any discomfort during your vacation.
3. Resources
They have access to a range of tools which you yourself may not be able to use. They can get you a better transport, added conveniences at the hotel room, room upgrades, and plan activities in the indoor or outdoor for you.
4. Convenience
They can match your desires to your vacation like what you exactly saw on the television. In reality, you find that travel inspiration is different from the real travel desires. Which hotel rooms look good on television or on the internet, are not actually ideal for your personality! A hotel booking agent in Jamnagar will help you in defining what you really want in your holiday stay.
5. Money-saving
Often they can save you a huge amount by their supplier relationships. Or, at least they can match your desired price while saving your effort and valuable time too. There may be some other hidden saving too during your hotel stay.
So, next time when you will plan your vacation never forget to hire a hotel booking agent!
This entry was posted on November, 07, 2019 at 14 : 29 pm and is filed under Hotel Booking. You can follow any responses to this entry through the RSS 2.0 feed. You can leave a response from your own site.