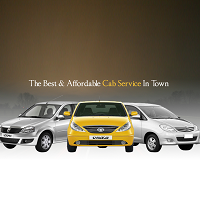 Owing to the changing lifestyle choices in this modern world, most of us prefer to avail taxi service or cab service as a suitable mode of transportation. Traveling by taxi or cab, whether for your daily work or for pleasure tours, is very common nowadays. One of the major reasons to hire a taxi is the convenience that it brings. It is almost easy to hire a cab or taxi these days given to the ease of booking over the phone or online. With reliable taxi cab providers providing taxi service or cab service, one can choose the desired car from an extensive fleet. Clients can select their desired car for rent from a wide range of automobiles or vehicles as per their preferences and budget.

Cab Service in Jamnagar: -

Jamnagar is a popular city in Gujarat and has played the most significant role in shaping the culture of the state. The place attracts hordes of tourists as it has many alluring places to visit here. The city is known for many famous temples, sightseeing beaches, hills, forests, bird sanctuaries, and national parks. A throng of visitors from all across the world visit this city and roam around to visit all these places in Jamnagar. One could visit places like Dwarkadheesh Temple, Darbargadh - the residence of Jam Sahebs (the most popular tourist attraction in Jamnagar), Positra Beach, Kotha Bates, Bala Hanuman Temple, and Nageshwar Jyotirlinga Temple in Jamnagar.

While traveling in Jamnagar, commutation is a very big challenge here. And when you are traveling to this city during the vacation seasons, the crowd in the streets doubles in no time. Most of the public transports get jam-packed with commuters here and in order to travel in full comfort, most people take cab service in Jamnagar as soon as they land here. This enables them to make sure that their stay in Jamnagar would be comfortable and convenient in terms of traveling. A dedicated cab or taxi would ensure that you reach your decided location or destination without booking anything or waiting for public transport. People often book a taxi cab provider in Gujarat at the best prices to travel around Jamnagar. However, before booking a taxi service in Jamnagar, here are the things you should check-

• Driving License Of The Driver:
Before you book the taxi service in Jamnagar, you should check the authenticity of the driving license of the taxi driver. The commercial drivers often hold a different driver's license that one should always be checked. This will help in ensuring that the driver is a trained professional that drive safely and will keep you safe in your journey.

• Knowledge And Information Of Routes:
As most people taking taxi services in Jamnagar are new to the region, they tend to be unaware of the routes. To ease out this common problem, having a driver who has a thorough knowledge of the routes in the city can make your travel faster and easier. Know what places you are planning to travel to in Jamnagar and ask your driver if he/she has complete knowledge of all the routes to the places. Furthermore, a driver who is quite familiar with the places would surely know the shortcuts and even keeps you saved from getting stuck in traffic jams.

• Experience Of The Driver On The Road:
Knowing the driver's on-road experience is also relevant to make sure that you are safe and secure in their hands. A driver is a responsible person who takes care of your safety and it is important for you to know that you are in expert hands. The experience of the drivers on the road would help you to know they would drive smoothly, safely and know all rules, etc.

• Fare Breakup of Your Hired Taxi:
Before booking the services of a taxi cab provider in Gujarat it is necessary to make sure how they are planning to charge you for the ride around Jamnagar. You would not want to be surprised with a hefty sum being charged from you when the trip ends. It is important to know how much they charge per kilometer, charges for stay, delays, jams, etc., in order to fully aware of how much the charges might be.

• Payment Method Of Your Hired Taxi:
The most important thing to check with the driver is how he intends to take the payment from you when the trip ends in Jamnagar. Make sure that you are comfortable with the mode of payment. Check whether he is accepting payment by cards, mobile wallets, cash or other things, which would help you make a more secure and seamless payment.
This entry was posted on January, 09, 2020 at 11 : 19 am and is filed under Taxi Cab Provider. You can follow any responses to this entry through the RSS 2.0 feed. You can leave a response from your own site.