Key Reasons To Hire Taxi While Travelling
Posted by Admin on May, 02, 2019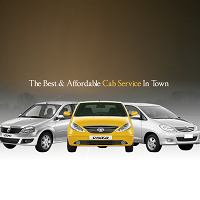 Traveling is an important essence in life. It is like therapy for a lot of people that energizes the soul and bring one's better mental peace. Various different kinds of people have their own reasons and kinds of travelling with the one thing common are transportation. Transportation is an issue that needs to be taken care of while you are travelling and it isn't something that should bother you very much.

Various kinds and means of transportation available all throughout the world but the most compact, personalized and preferred is a taxi. Taxi is a car which you hire personally for yourself all throughout your journey. If you are still wondering what is the importance of taxi on your trip would be here are the few reasons why you should hire a taxi in Rajkot while travelling –
1. Personalized
Definitely one of the main reasons why you should think about a taxi hire in Rajkot is because of the personalized way of travelling that you will be getting. This implies that the car would totally belong to you and you can make stops where ever you feel like. This will ensure that you get the best of the travelling experience without having the problem of waiting for the entire team for public transport to stop.
2. Better Guide
When you are travelling in Rajkot with the taxi you can be rest assured that you do not need to hire an additional guide to show around. Your taxi driver will do the needful. One of the major benefits of travelling in a taxi is that a taxi driver is supposedly a local person who can show you around and guide you a lot better than any other public transport would. Hence to know the maximum about a specific place without having to spend extra amounts of money definitely ask your taxi driver for the opinion.
3. Comfort
These important points cannot surely be missed out that you are supposing to experience while travelling in a taxi. Taxi hire in Rajkot is sure to be beneficial see you, as it is guaranteed to provide you with maximum comfort. With your own taxi, you can sit in any position as you feel like and experience the best city with the minimum amount of discomfort.
4. Recommendations
Another important thing that your taxi driver is sure to give you is a proper recommendation. Like the fact that your driver might be a local person, he would be aware of the shops and places like restaurants which will be open at the specific hours and which serve the best food and items. Hence you do not have to rely on the Internet to help you.

Having a personal car for yourself can always true about to be a good decision. So the next time you look out for taxi hire in Rajkot surely do not hesitate before you make this commitment as always prove out to be a good one.
This entry was posted on May, 02, 2019 at 12 : 59 pm and is filed under Taxi Cab Provider. You can follow any responses to this entry through the RSS 2.0 feed. You can leave a response from your own site.